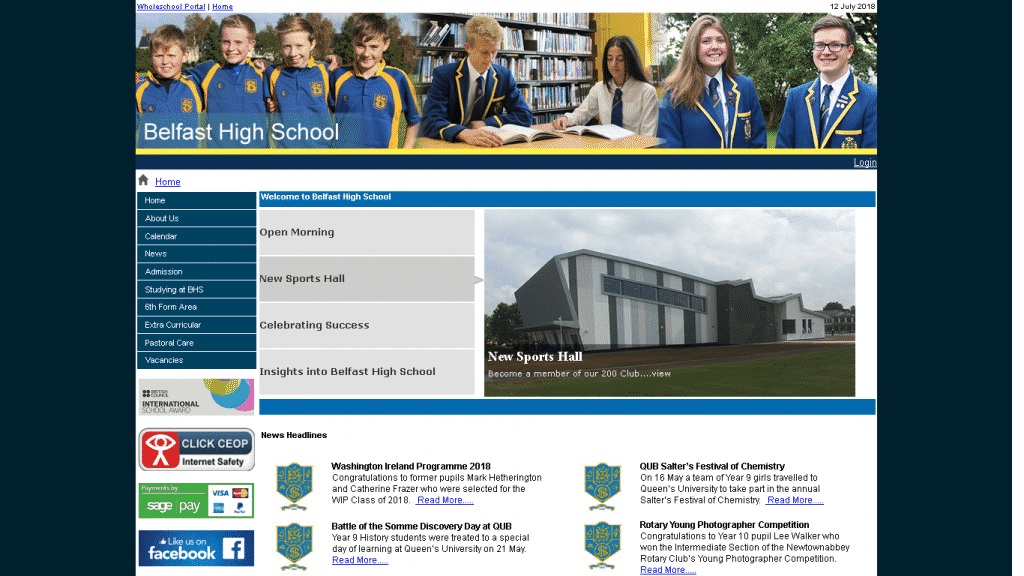 Belfast High School
Belfast High School Vision & Values
Belfast High School Contact Details
School: Belfast High School
Address:
720 Shore Road
Newtownabbey
County Antrim
BT37 0PX
Telephone:
02890 864431
Email:
info@belfasthigh.newtownabbey.ni.sch.uk
Belfast High School Entrance Criteria
School: Belfast High School
The Board of Governors has determined that all children resident in Northern Ireland at the time of their proposed admission to the School will be selected for admission before any child not so resident. Belfast High School can be found at the click here
---
Belfast High School Priority Catchment Area
---
Belfast High School
School Location
---
Belfast High School
School Extracurricular
A wide range of extra-curricular activities is available to all pupils who areencouraged to participate for enjoyment and self-development. In excessof 30 clubs and societies function each year providing for artistic, cultural,sporting and other interests.
These include: Animal House, Astronomy, Athletics, Badminton, Basketball, Chess, Choir,Christian Union, Circuits, Community Service, Computing, Cricket, Cross-Country, Debating, Duke of Edinburgh Award Scheme, Golf, Gymnastics,Hockey, Homework Club, ICT, International Cuisine, Junior Drama, Knitting,Language Club, Netball, Orchestra (including Junior Strings, String Quartet,Wind Band, Jazz Band), Public Speaking, Puzzle Club, Reading Clubs, Rug-by, Soccer, Squash, Swimming, Table Tennis, Tennis, Young Engineers andYoung Enterprise. Clubs and Societies meet during the school day, afterschool and in some cases evenings and weekends.
---
Belfast High School
School Useful Links
---
---
NB: whilst every care has been taken to ensure accuracy of data please check with the school or county for up to date information.