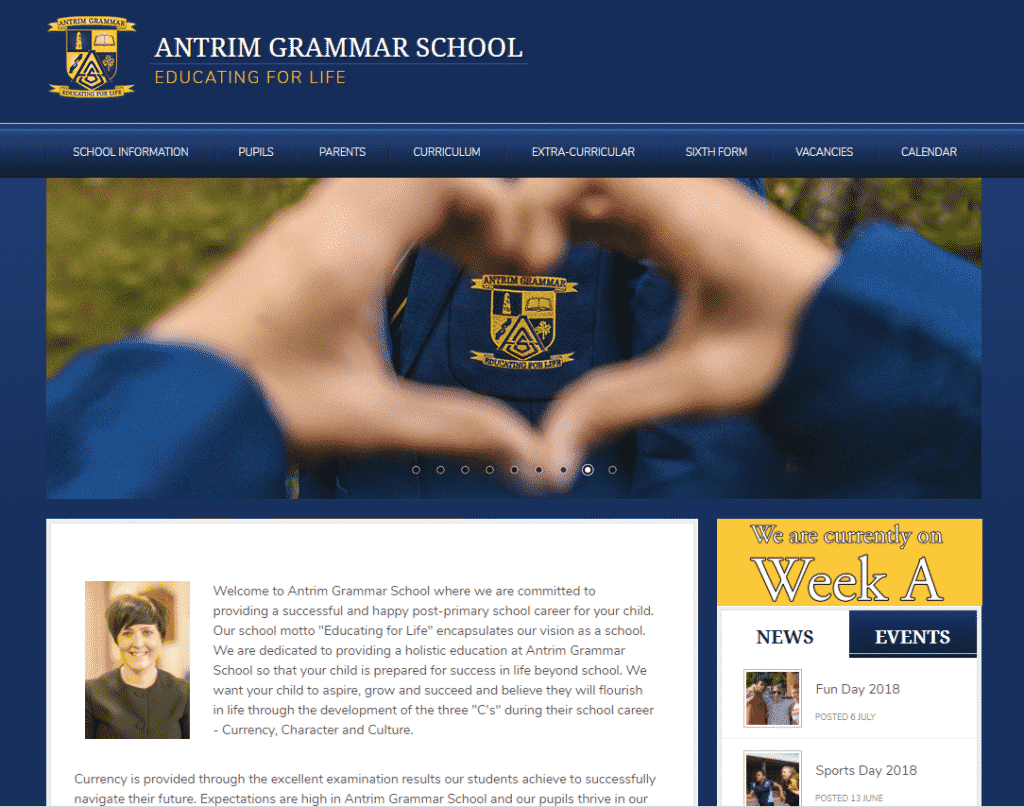 Antrim Grammar School
Antrim Grammar School
Vision & Values
Welcome to Antrim Grammar School where we are committed to providing a successful and happy post-primary school career for your child. Our school motto 'Educating for Life' encapsulates our vision as a school. We are dedicated to providing a holistic education at Antrim Grammar School so that your child is prepared for success in life beyond school. We want your child to aspire, grow and succeed and believe they will flourish in life through the development of the three 'C's during their school career - Currency, Character and Culture.
Antrim Grammar School
Contact Details
School: Antrim Grammar School
Address:
10 Steeple Road
Antrim
Antrim County
BT41 1AF
Telephone:
02894 464091
Email:
info@antrimgrammar.antrim.ni.sch.uk
Antrim Grammar School
Entrance Criteria
School: Antrim Grammar School
Antrim Grammar School (the School) is a co-educational, inter-denominational school withan Enrolment Number of 740 and an Admissions Number of 105.
The Board of Governors has approved the criteria described below and has delegated the task of applying these criteria to the Principal. Further reference, therefore, to the Board of Governors may imply the Admissions Sub Committee or the Principal. Antrim Grammar School can be found at the Click Here
Read this before applying for a school place.
---
Antrim Grammar School
Priority Catchment Area
The School has a wide catchment area and draws Year 8 pupils annually from 20 – 30 feeder Primary Schools. The admissions number was increased in 2017 from 105 to 112 year 8 pupils. There are childrenfrom 50 Primary Schools in our current school population; approximately two thirds come from the town of Antrim and the rest from towns, villages and rural communities throughout South Antrim, Newtownabbey and Ballymena.
The School is situated on an attractive 74-acre campus shared with Parkhall Integrated College and Steeple Nursery School. A new build for Parkhall Integrated College is due to be completed in 2017/18 and will result in improved sporting facilities and vehicular access for the entire campus.
---
Antrim Grammar School
School Location
---
Antrim Grammar School
School Extracurricular
We aim to provide a wide range of activities to suit the needs of all of our pupils. We have extensive sports facilities and a number of sports coaches support our PE department in providing many clubs including Hockey, Rugby, Cricket, Athletics and Badminton. We have also a wide range of lunchtime and after school clubs including Scripture Union, Numeracy Ninjas, Warhammer and Film Club, so there is always the opportunity to learn something new and meet some new friends.
---
Antrim Grammar School
School Useful Links
---
---
NB: whilst every care has been taken to ensure accuracy of data please check with the school or county for up to date information.