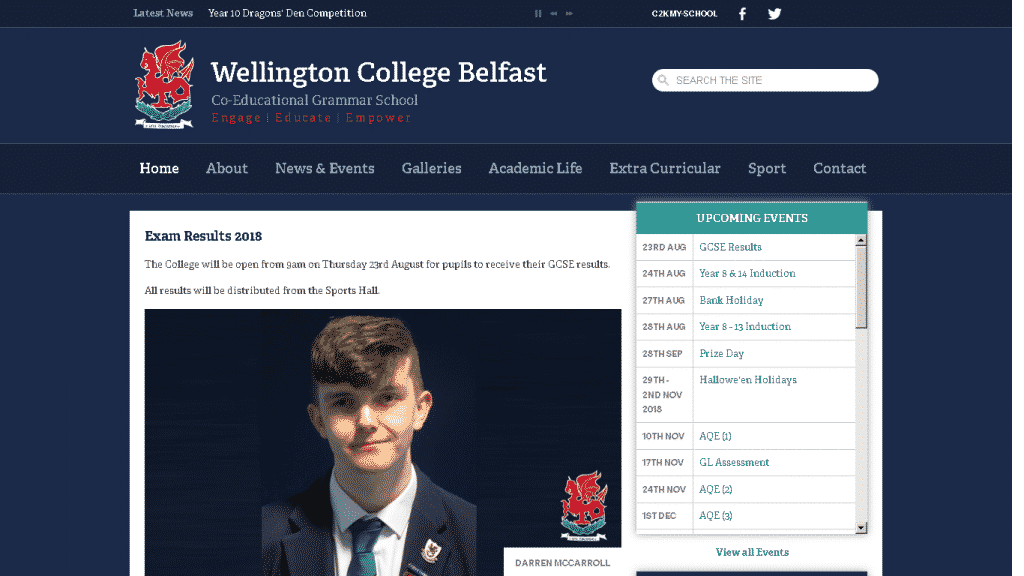 Wellington College Belfast
Wellington College Belfast
Vision & Values
Wellington College Belfast
Contact Details
School: Wellington College Belfast
Address:
18 Carolan Road
Belfast
Co. Antrim
BT7 3HE
Telephone:
028 9064 2539
Email:
info@wellington.belfast.ni.sch.uk
Wellington College Belfast
Entrance Criteria
School: Wellington College Belfast
Applicants who will be in Northern Ireland at the time of their proposed admission to the College will be selected for admission before any such applicants not so resident.For the academic year 2017-2018 the College will continue to use academic criteria in the first instance to select pupils.The College will consider applications from those pupils who have taken the entrance anywhere in Northern Ireland provided by AQE and/or GLA.There is no requirement that any applicant should sit both the AQE and GLA
assessmens. However, in the case of an applicant who sits both assessments, the College will consider whichever outcome places the applicant in the higher Band. Wellington College Belfast can be found at the click here
---
Wellington College Belfast
Priority Catchment Area
---
Wellington College Belfast
School Location
---
Wellington College Belfast
School Extracurricular
Extra curricular pursuits are very important here at Wellington . Pupils have the opportunity to take part in a variety of activities including Art, Drama, Music, Duke of Edinburgh and Science.

Wellington runs the Duke of Edinburgh's Awards Scheme for pupils in year 13. The Scheme encourages wider contacts and involvement. As direct entry Gold Award participants they take part in a wide range of activities focused on getting them involved in the wider community and in expanding their personal boundaries.
---
Wellington College Belfast
School Useful Links
---
---
NB: whilst every care has been taken to ensure accuracy of data please check with the school or county for up to date information.