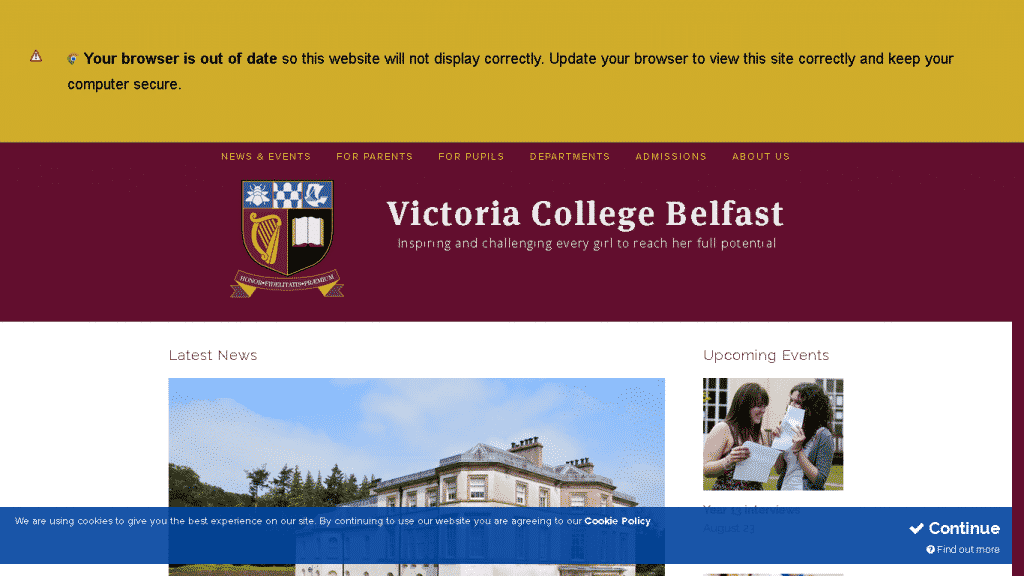 Victoria College, Belfast
Victoria College, Belfast
Vision & Values
Welcome to Victoria College Belfast, an exceptional girls' school with a strong record of academic achievement, sporting success and high quality pastoral care. A dedicated team of expert staff support pupils in their learning and encourage them to be the best they can be.

We are delighted with the new sports, art and science facilities provided through the School Enhancement Programme and we look forward to further development of the campus. We are very proud of our pupils' success and of the contribution they make to society both locally and internationally and I would encourage all prospective pupils and their parents to arrange to visit and experience at first hand the unique VCB welcome.
Victoria College, Belfast
Contact Details
School: Victoria College, Belfast
Address:
2A Cranmore Park
Belfast
Co. Antrim
BT9 6JA
Telephone:
028 9066 1506
Email:
nmawhinney170@c2kni.net
Victoria College, Belfast
Entrance Criteria
School: Victoria College, Belfast
Any pupil who wishes to sit the GL entrance test or the AQE entrance test in Victoria College should complete a registration form naming Victoria as their first preference assessment centre. All necessary information is provided within the registration packs.
However, should any parent require clarification on any point relating to the entrance test process he/she should contact Miss Nicola Mawhinney at the College who will provide them with a date and time when they might come to the College to meet with the Headmistress, Ms Slevin. AQE registration opened on 2nd May and forms should be returned to the AQE Office by 7th September 2018. GL registration opens on 14th May and all forms must be returned directly to the College by 21st September 2018. The College will accommodate up to 160 pupils on each of the dates for the entrance tests. Should there be more than 160 applications for places preference may be given to girls who are planning to attend the College in 2019. Victoria College, Belfast can be found at the click here
---
Victoria College, Belfast
Priority Catchment Area
---
Victoria College, Belfast
School Location
---
Victoria College, Belfast
School Extracurricular
At Victoria College we place great emphasis on the provision of high quality extra curricular activities for all our students. It is through these activities that our students have an opportunity to develop their personal skills and challenge themselves with new experiences. We are fortunate to have a committed team who dedicate their time to running our extra curricular activities programme. Girls are encouraged to pick three activities. For more information just click here
---
Victoria College, Belfast
School Useful Links
---
---
NB: whilst every care has been taken to ensure accuracy of data please check with the school or county for up to date information.