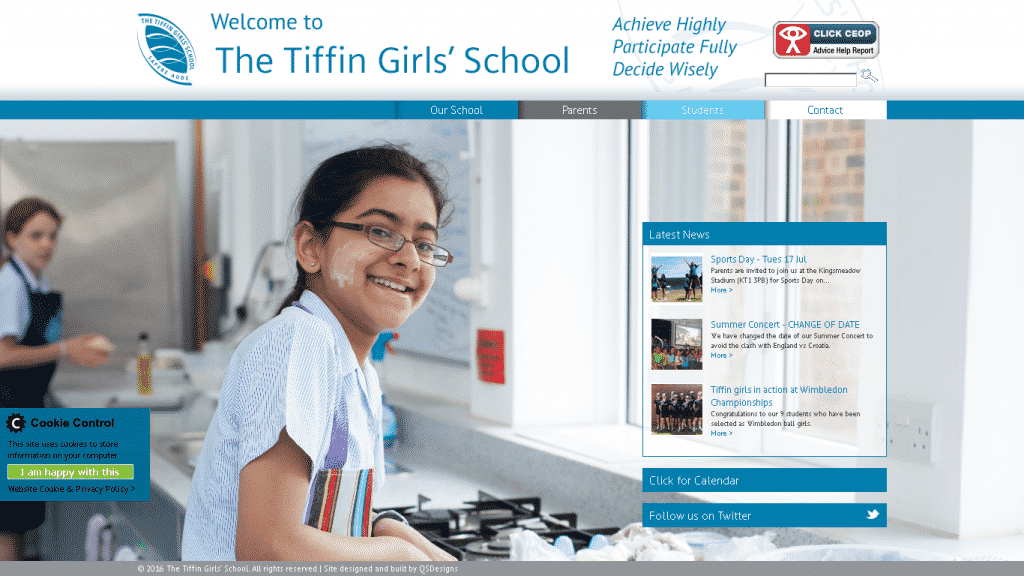 Tiffin Girls' School
Tiffin Girls' School
Vision & Values
Tiffin Girls' School
Contact Details
School: Tiffin Girls' School
Address:
Richmond Road
Kingston upon Thames
Surrey
KT2 5PL
Telephone:
020 8546 0773
Email:
contact@tiffingirls.org
Tiffin Girls' School
Entrance Criteria
School: Tiffin Girls' School
Online registration closes at 12.00 noon: This is the official deadline for registering your daughter for the admission tests and delivering all paperwork to The Tiffin Girls' School (the SIF Deadline). There are 180 places available in Year 7 and the school has an Inner Area and a Designated Area. We also give priority consideration to girls who are eligible for pupil premium funding in these areas and have achieved highly in their entrance tests. Tiffin Girls' School can be found at the click here
---
Tiffin Girls' School
Priority Catchment Area
---
Tiffin Girls' School
School Location
---
Tiffin Girls' School
School Extracurricular
We place great value on the role of extra curricular and co-curricular activities in developing girls as rounded young women. As well as discovering new interests and friends, girls are able to challenge themselves in different ways, shaping their characters, developing their independence and building their leadership qualities. There is an exceptional range of opportunities on offer, with many of the clubs being set up and led by students themselves, supported by our committed and enthusiastic staff. Girls are encouraged, and expected, to participate during lunchtime or after school. The clubs, societies, groups and ensembles available during the school year include: ArtFandom Club, Orchestras, Badminton, Feminist Society, Percussion Ensemble, Book Club, First Aid Club, Photography Club, Brass Group, Football, Poetry Club, Chess, Guitar Group, Radio Plays, Choirs, Gymnastics, Rock Group
Cipher and Stenography Club, History Society, Science Club, Classics Society, Hockey, School Council, Cooking Club, Knitting, Scrabble, Creative Writing, LGBTQ Society, Strings, Debating, Mandarin, Table Tennis, Drama Club, Maths, Volleyball, Duke of Edinburgh, Model United Nations, Wind Band, Environmentalist Society, Musical, Theatre, Writers' Workshop, Explore, Netball, Young Enterprise
---
Tiffin Girls' School
School Useful Links
---
Recommended CEM Test Study Pack
---
NB: whilst every care has been taken to ensure accuracy of data please check with the school or county for up to date information.