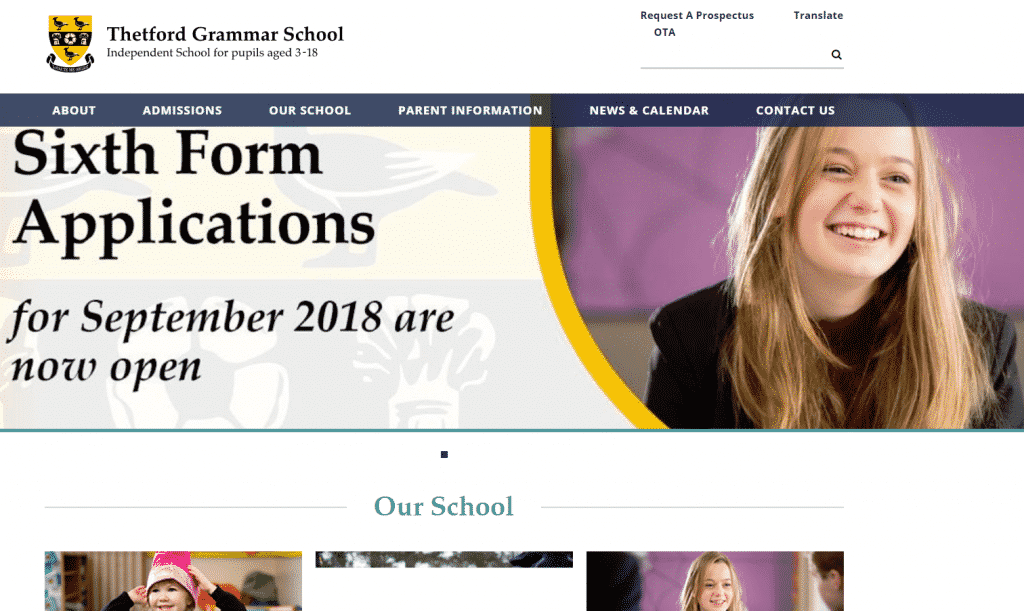 Thetford Grammar School
Thetford Grammar School
Vision & Values
We strive for an environment of high expectations and standards in which all our pupils are encouraged to believe in themselves, to be inquisitive, to be resilient and to show ambition both within and beyond the classroom.

We know that every student needs to be developed, not just intellectually and academically, but as a whole person. Both our Preparatory and Senior Schools provide stimulating and innovative opportunities for our students to learn about their world.

Our young Thetfordians are happy, safe and confident. We emphasise four core areas throughout the school: academic excellence; a commitment to sport; the promotion of a wide range of artistic and cultural pursuits; and a commitment to service and community.
Thetford Grammar School
Contact Details
School: Thetford Grammar School
Address:
Bridge Street
Thetford
Norfolk
IP24 3AF
Telephone:
01842 752840
Email:
hmsec@thetgram.norfolk.sch.uk
Thetford Grammar School
Entrance Criteria
School: Thetford Grammar School
We welcome children between the age of 3 - 18 throughout the school year.At each stage of their educational journey there is a seamless transition supported by our outstanding pastoral care.

It is possible for pupils and students to join the School outside of the typical entry points, subject to places being available and the admissions criteria being met. Thetford Grammar School can be found at the click here
---
Thetford Grammar School
Priority Catchment Area
---
Thetford Grammar School
School Location
---
Thetford Grammar School
School Extracurricular
At every stage of their education we encourage our pupils to take part in the wide range of activities available to them outside the classroom environment.

We offer an impressive range of extra-curricular activities, including games and sporting activities, drama and music, and a large number of clubs and societies as well as the Duke of Edinburgh's Award - we are a Gold accredited centre.

Numerous trips and visits take place throughout the year to destinations in the UK and abroad.

Charities is an important focus for us and our pupils pursue fund-raising activities with great enthusiasm and imagination.
---
Thetford Grammar School
School Useful Links
---
---
NB: whilst every care has been taken to ensure accuracy of data please check with the school or county for up to date information.