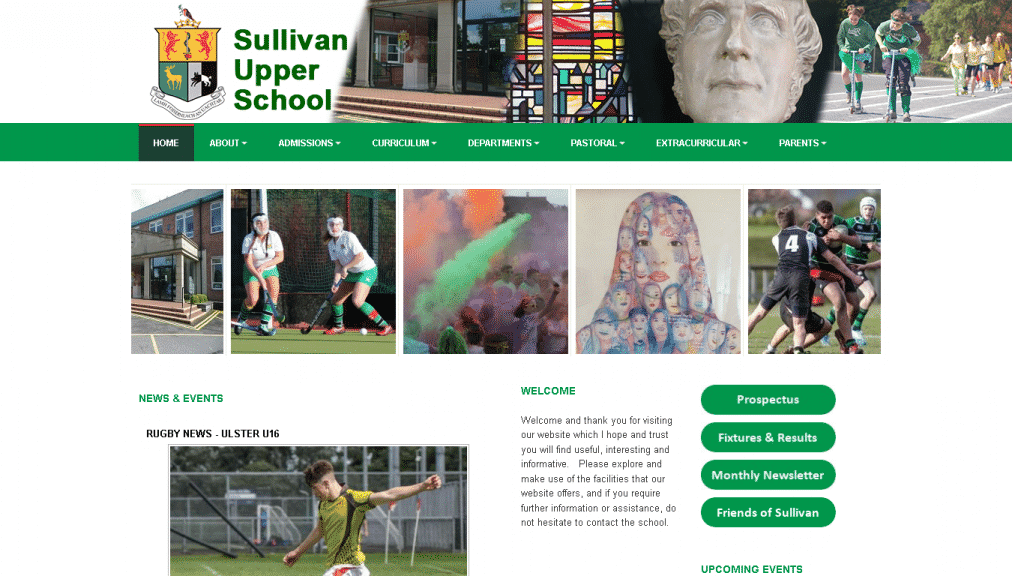 Sullivan Upper School
Sullivan Upper School
Vision & Values
At Sullivan we value individuals and aim to get the very best from all the girls and boys who come here. Academically we have very high standards but we also combine this with a comprehensive pastoral care system and a wide range of extracurricular activities. The information provided is to help you decide if Sullivan is the school for you.
Sullivan Upper School
Contact Details
School: Sullivan Upper School
Address:
Belfast Road
Holywood
Co. Down
BT18 9EP
Telephone:
028 9042 8780
Email:
info@sullivanupper.holywood.ni.sch.uk
Sullivan Upper School
Entrance Criteria
School: Sullivan Upper School
Sullivan Upper School uses the Common Entrance Assessments (CEA Tests) developed by the Association for Quality Education Limited (AQE Ltd). Sullivan Upper School will be a test centre. A familiarisation day is held prior to the actual assessments so that children can experience and become familiar with their surroundings and can meet the supervising staff. Sullivan Upper School can be found at the ​click here
---
Sullivan Upper School
Priority Catchment Area
---
Sullivan Upper School
School Location
---
Sullivan Upper School
School Extracurricular
A list of the various clubs and societies that normally operate along with timings is shown below, changes to these details will be announced in assembly or placed on the relevant noticeboard.

This is where parents' voluntary contributions play such a vital role. We are fortunate at Sullivan to operate such a wide and varied extra-curricular programme which we believe makes an invaluable contribution to a pupil's experience and it is our aim to involve as many pupils as possible in their area of interest. The school is also very keen to maintain the ethos whereby all pupils have the same opportunity to take part in extra-curricular activities regardless of their financial background. We do not charge on a participation basis and this will only be sustainable if we can maintain funding through our voluntary contributions.

---
Sullivan Upper School
School Useful Links
---
---
NB: whilst every care has been taken to ensure accuracy of data please check with the school or county for up to date information.