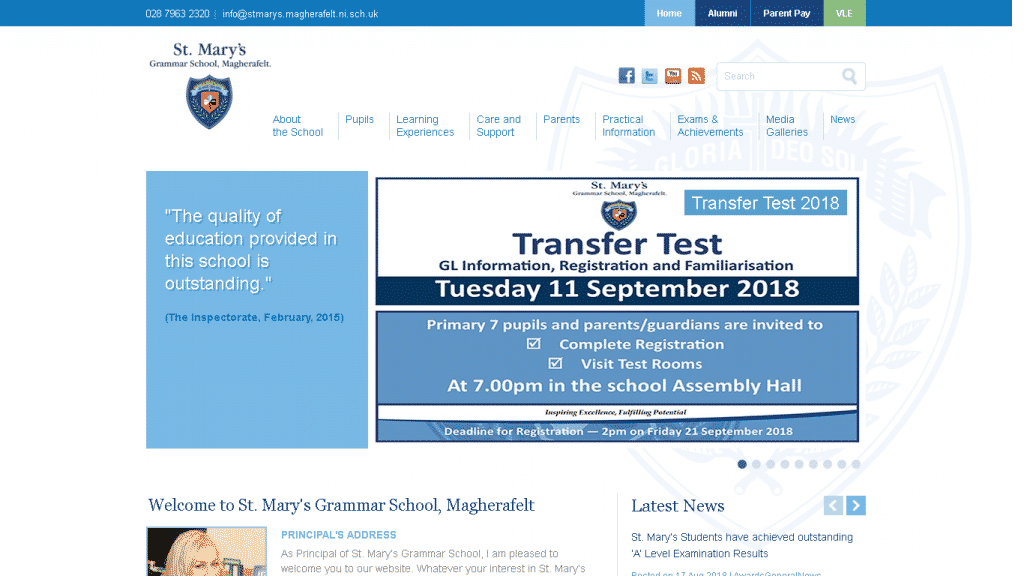 St Mary's Grammar School
St Mary's Grammar School
Vision & Values
St Mary's Grammar School
Contact Details
School: St Mary's Grammar School
Address:
3 Castledawson Road
Magherafelt
Co. Derry
BT45 6AX
Telephone:
028 7963 2320
Email:
info@stmarys.magherafelt.ni.sch.uk
St Mary's Grammar School
Entrance Criteria
School: St Mary's Grammar School
St. Mary's is a member of the Post-Primary Transfer Consortium of 34 schools which are using GL Assessment English and Maths Special Access tests as part of the admissions procedure for entry to Year 8 in September 2019.

Parents/guardians wishing to apply for their son/daughter to sit the Entrance Assessment on 17 November 2018 should download the Registration Pack and return the completed Registration Form by 2.00pm on 21 September 2018. St Mary's Grammar School can be found at the click here
---
St Mary's Grammar School
Priority Catchment Area
---
St Mary's Grammar School
School Location
---
St Mary's Grammar School
School Extracurricular
In St. Mary's, we offer a rich and varied extra-curricular programme which provides our pupils with many opportunities to develop their gifts and talents to the full. As a school, we aim to cater for the interests of all pupils by offering a broad menu of activities, both during the school day and outside of school hours. We believe that participation in extra-curricular activities has many benefits for pupils and, therefore, encourage all pupils to avail of the extra-curricular opportunities on offer.

Involvement in extra-curricular activities can help pupils to: enjoy a physical and active lifestyle; develop time-management skills; understand the importance of commitment; develop friendships; develop skills in working as part of a team; develop and share skills, gifts and talents; build confidence and self-esteem; manage stress; and develop a personal portfolio for university and employment applications.
---
St Mary's Grammar School
School Useful Links
---
---
NB: whilst every care has been taken to ensure accuracy of data please check with the school or county for up to date information.