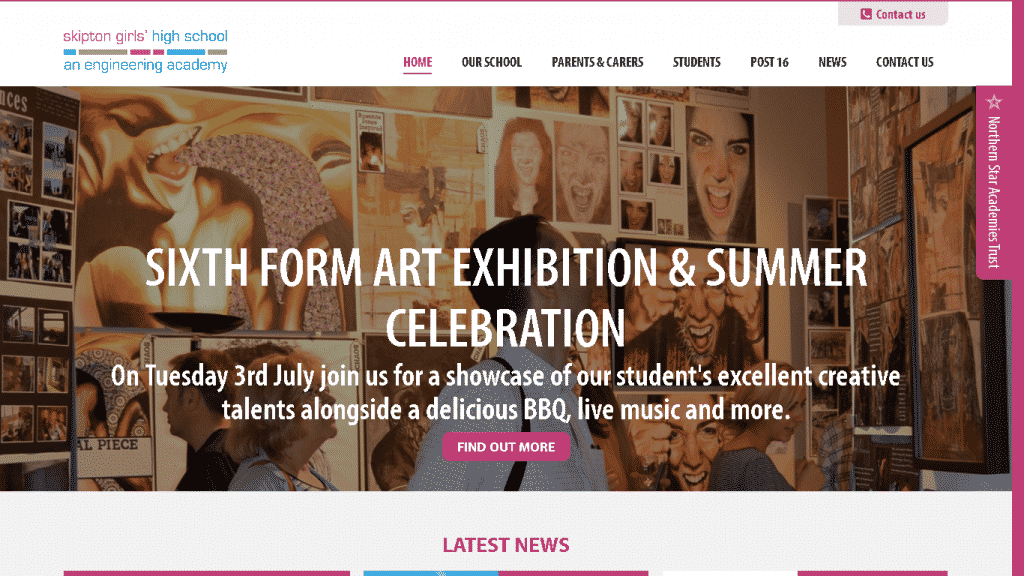 Skipton Girls' High School
Skipton Girls' High School
Vision & Values
The aim of Skipton Girls' High School is to provide an education for our highly able learners which enable them to grow and learn as individuals, to take responsibility for their own learning and to be curious about the world around them. Lead an innovative, dynamic and academic environment which is not constrained by gender stereotypes. Prioritise Inclusion, equality and equity and place these at the heart of our learning community. Collaborate and partner within and beyond the school. Continue to build and embed the commitment to work beyond SGHS and promote System Leadership within an inclusive school-led system. Deliver strong communication to all stakeholders.
Skipton Girls' High School
Contact Details
School: Skipton Girls' High School
Address:
Gargrave Road
Skipton
North Yorkshire
BD23 1QL
Telephone:
01756 707600
Email:
reception@sghs.org.uk
Skipton Girls' High School
Entrance Criteria
School: Skipton Girls' High School
Admission of students after the start of Year 7. In year tests will be held: 11th October 2018, 3rd May 2019. For further information, please contact hawkinsg@sghs.org.uk.

We are delighted that you are considering Skipton Girls' High School for your child's future education.

As an Academy we are responsible for our own admissions. Skipton Girls' High School is a selective school, so girls who wish to join the school in Year 7 sit a selection test. If more girls are successful in the test than can be offered places at the school other criteria, including home to school distance are taken into account.

We hold an Open Evening for girls at the end of Year 5 and their parents each year. Tours of the school can be arranged on alternative dates for those who are moving into area, live overseas, or service families. Prospective pupils are also most welcome to visit the school during the school day. If you contact the school we will also be more than happy to answer any questions you may have. Girls can also apply for admission into other years; again please contact the school for advice.

Skipton Girls' High School can be found at the click here
---
Skipton Girls' High School
Priority Catchment Area
---
Skipton Girls' High School
School Location
---
Skipton Girls' High School
School Extracurricular
We have a range of extra curricular clubs and activities on offer for students to take part in. Whether you are a looking to try something familiar or new, please see the list below.
---
Skipton Girls' High School
School Useful Links
---
---
NB: whilst every care has been taken to ensure accuracy of data please check with the school or county for up to date information.