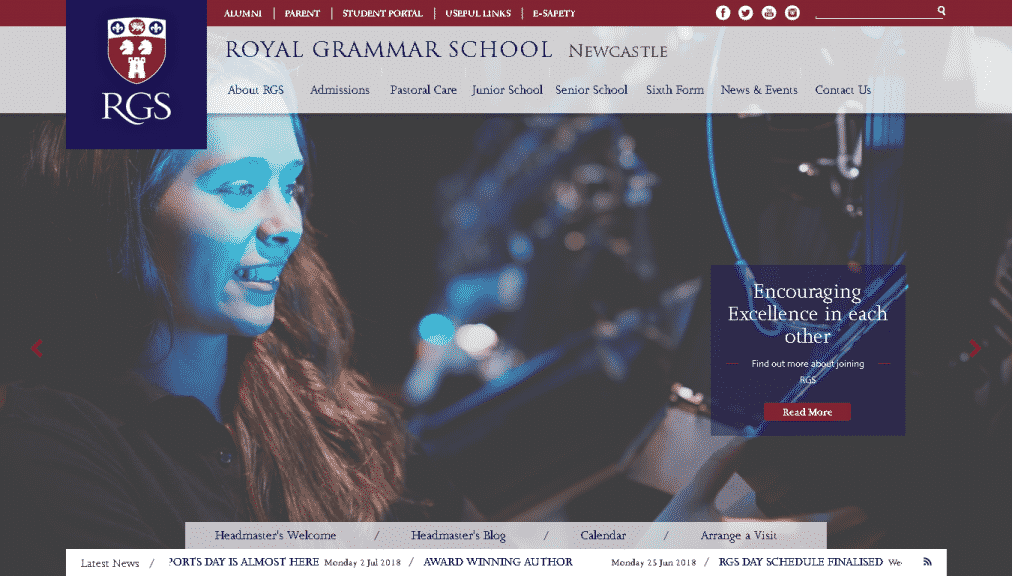 Royal Grammar School
Royal Grammar School
Vision & Values
Royal Grammar School
Contact Details
School: Royal Grammar School
Address:
Eskdale Terrace
Newcastle-upon-Tyne
Tyne and Wear
NE2 4DX
Telephone:
0191 2815711
Email:
a.bird@rgs.newcastle.sch.uk
Royal Grammar School
Entrance Criteria
School: Royal Grammar School
Our process of selection and admissions is designed to confirm that children have the potential to cope with our fast-paced, challenging academic curriculum.

Any process of assessment can seem daunting and so therefore every attempt is made to ensure that both parents and children are relaxed and put at ease from the moment an application is made. We have a dedicated Admissions Officer, Ali Perry, who is there to offer all the advice, information and guidance you may need along the way.

We are well aware that there can be significant differences in the educational experiences of children and we take that into account during our assessment process. We are not looking for ready-made geniuses! We want you to find the right school for your child, therefore we look for evidence of what applicants may achieve given the exciting opportunities we offer them here. Royal Grammar School can be found at the click here
---
Royal Grammar School
Priority Catchment Area
---
Royal Grammar School
School Location
---
Royal Grammar School
School Extracurricular
There is so much more to Sixth Form life at RGS than just achieving great exam results and going off to university! The school has an exceptionally wide range of extra-curricular activities for students to get involved in and develop their interests outside of the classroom. Students in the Sixth Form have access to all of the same extra-curricular opportunities as in the Senior School including sport, music, drama, academic societies, outdoor activities and much more. In addition to this, all sixth formers take advantage of our thriving enrichment programme which offers them an opportunity to broaden their outlook, learn a new skill, or simply try something different. Some examples of our current enrichment courses include cookery, set design, Mandarin, flash animation and British Sign Language.

Many students opt to take part in voluntary service, offering some of their free time on a regular basis to help out at other schools or businesses in the area. This is a very worthwhile thing to do and benefits the local community as well as providing excellent experience for the students themselves.

Whilst academic success is at the heart of what we do, our extra-curricular programme both enhances and complements the skills and knowledge gained in the classroom. Our students usually find that they have packed more into their time at RGS than they ever thought possible!
---
Royal Grammar School
School Useful Links
---
---
NB: whilst every care has been taken to ensure accuracy of data please check with the school or county for up to date information.