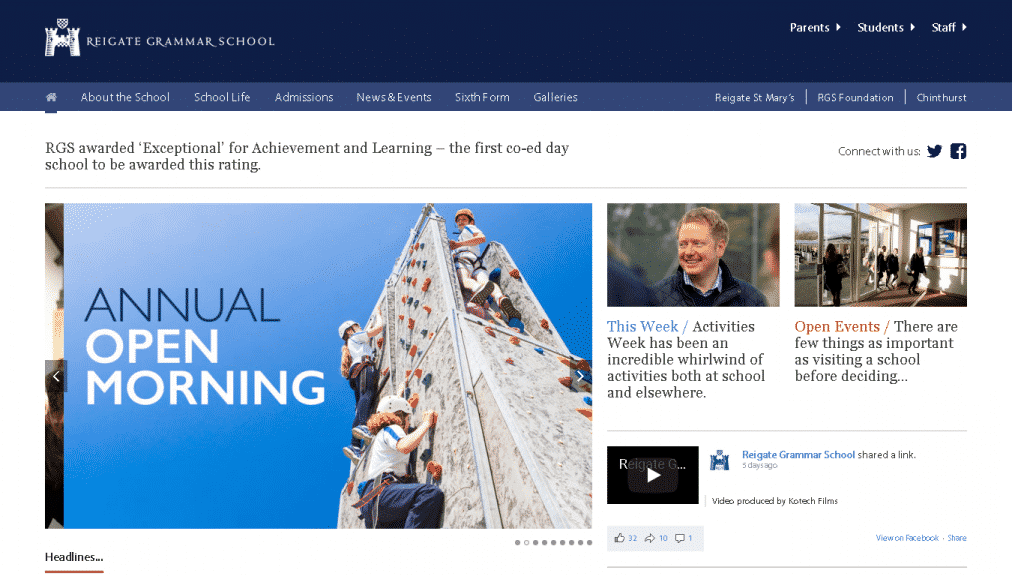 Reigate Grammar School
Reigate Grammar School
Vision & Values
Reigate Grammar School
Contact Details
School: Reigate Grammar School
Address:
Reigate Road
Reigate
Surrey
RH2 0QS
Telephone:
01737 222231
Email:
info@reigategrammar.org
Reigate Grammar School
Entrance Criteria
School: Reigate Grammar School
Boys and girls who will be 11 years old on 1 September of the year of proposed entry sit an Entrance Examination early in January of the same year. There will be three papers, one each in Mathematics, English and Reasoning; for sample papers please view via the links at the bottom of this page. Reigate Grammar School can be found at the click here
---
Reigate Grammar School
Priority Catchment Area
---
Reigate Grammar School
School Location
---
Reigate Grammar School
School Extracurricular
RGS' extra-curricular offer is the heart beat of the school and we hope that parents will join us in encouraging students to get involved in whichever club or activity appeals. It's never too late to try something new and staff are always keen to hear from the students themselves about starting up new clubs and ventures.

Through trying something new, developing established hobbies or embarking on programmes such as the Duke of Edinburgh's Awards or the Combined Cadet Force, students gain vital life skills, learn about themselves and make friendships beyond their immediate network, often friendships that last a lifetime. As many Upper Sixth Form students will testify, there's nothing like successfully navigating the Brecon Beacons in the pouring rain to give you confidence and build your character.

Exam results will help to open doors of opportunity but the character and confidence developed, for example, on the sports field, in the Model United Nations or through performing on stage are essential so that those opportunities can be embraced.
---
Reigate Grammar School
School Useful Links
---
---
NB: whilst every care has been taken to ensure accuracy of data please check with the school or county for up to date information.