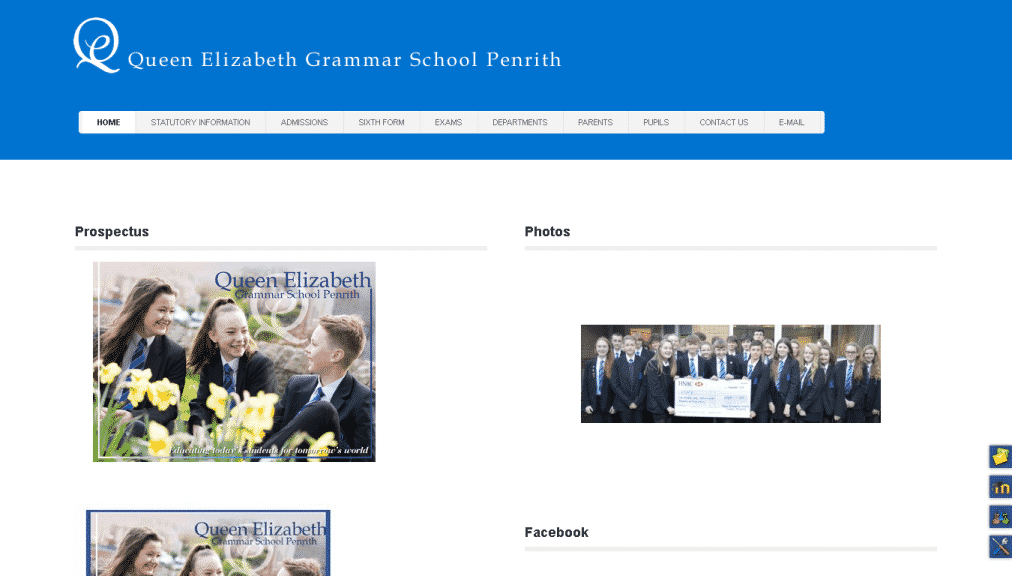 Queen Elizabeth Grammar School, Penrith
Queen Elizabeth Grammar School, Penrith
​Vision & Values
This is a busy, happy and successful school with well motivated and conscientious pupils, a highly experienced and committed teaching staff, and outstanding parental support. We have a very clear recognition here between teachers and pupils that we are on the same side, we are working together. We all share the same vision to do our best to ensure that everyone achieves their full potential in the time they are in the school. Queen Elizabeth Grammar School is about taking the best aspects of the traditional grammar school ethos and blending them with the most useful elements of good practice in modern education.

The grammar school ethos is about offering an academic curriculum, encouraging our pupils to have high aspirations and working in a disciplined environment which has a high regard for the community, for honesty and mutual respect. There is considerable extra-curricular provision in sport and the performing and creative arts. We also have an extensive programme of educational visits.
Queen Elizabeth Grammar School, Penrith
​Contact Details
School: Queen Elizabeth Grammar School
Address:
Ullswater Road
Penrith
unknown
Cumbria
CA11 7EG
Telephone:
01768 864621
Email:
reception@qegs.cumbria.sch.uk
Queen Elizabeth Grammar School, Penrith
​Entrance Criteria
School: Queen Elizabeth Grammar School
We are delighted that you are considering Queen Elizabeth Grammar School. Please find our admissions policies below which detail the admissions procedure. The menu above will direct you to application forms and important dates depending on the age of your child. If you have any queries please feel free to contact us on 01768 864621 to request a call from the admissions department.
Queen Elizabeth Grammar School can be found at the click here
---
Queen Elizabeth Grammar School, Penrith
Priority Catchment Area
---
Queen Elizabeth Grammar School, Penrith
School Location
---
Queen Elizabeth Grammar School, Penrith
​School Extracurricular
Music at Queen Elizabeth Grammar School fosters a tradition of exceptional musical ability. Pupils of all backgrounds, having studied music prior to their education here or not, are encouraged and nurtured to develop their personal relationship with a wide variety of music. As part of the National Curriculum, pupils receive classroom Music lessons in years 7, 8 and 9. In these sessions, pupils utilise their creativity and imagination to unpick the vast theory and structures of music from many cultures and societies. After their options year, pupils can opt to take their musical talents onto GCSE and A Level standard. As you will see below, there are a variety of differing schemes of work with which Music is taught, covering a large range of styles, to give pupils a holistic experience of Music from all around the world. Pupils are encouraged to get involved with music-making in any form possible, having the opportunity to be involved with a large range of extra-curricular activities. The Carlisle Music festival has been a place where pupils in varying ensembles - Orchestra, Chamber Choir, School Choir, String Quartet - have had the opportunity to concentrate their musical ability in competing against other school's within the Cumbria district. For more information just click here
---
Queen Elizabeth Grammar School, Penrith
​School Useful Links
---
---
NB: whilst every care has been taken to ensure accuracy of data please check with the school or county for up to date information.