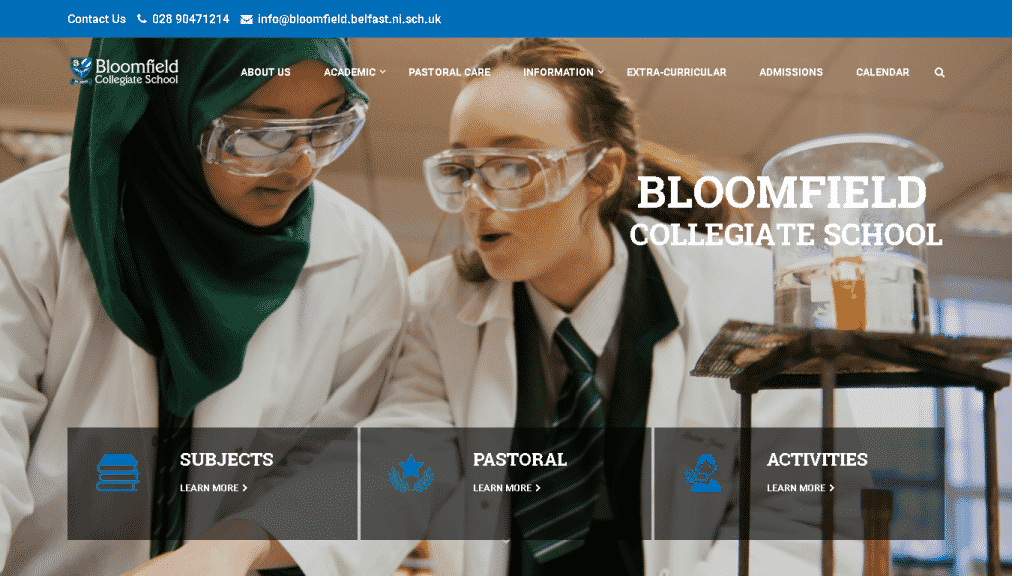 Bloomfield Collegiate School
Bloomfield Collegiate School Vision & Values
The School curriculum is designed to provide the broadest possible choice of subjects and, from the very start of their school career, we offer traditional academic pathways while also making sure the girls have the best chance to discover and advance their own passions in a variety of disciplines. We believe that through learning and the celebration of success, all our pupils can fulfil their potential and begin to shape their future.

Encouraging young people to explore a wide variety of opportunities will equip them with the skills, confidence and aspirations to broaden their horizons and develop their independence.
Bloomfield Collegiate School Contact Details
School: Bloomfield Collegiate School
Address:
Astoria Gardens
Belfast
County Antrim
BT5 6HW
Telephone:
028 90471214
Email:
info@bloomfield.belfast.ni.sch.uk
Bloomfield Collegiate School Entrance Criteria
School: Bloomfield Collegiate School
We organise a familiarisation day to help put you and your child at ease about the procedure on test days. They will have their registration checked in the same way as on test day and will then be taken to our examination hall where they will get the opportunity to try out their desk, meet the invigilators, and learn about what to expect during the tests.

Transferring to a new school is an exciting but also daunting process. Whether you are applying for a place for Year 8 or Year 13, I hope you will find the admissions information here useful and coherent. If you have any questions, please do not hesitate to contact the school and we will try our best to answer your queries.

Bloomfield Collegiate School can be found at the click here
---
Bloomfield Collegiate School Priority Catchment Area
---
Bloomfield Collegiate School
School Location
---
Bloomfield Collegiate School
School Extracurricular
We believe that an extended school programme is an essential part of a successful school and a well-rounded education. There are a wide variety of extra-curricular activities on offer for pupils throughout the year with some clubs taking place after school and during lunch time, giving everyone the best chance of getting involved.

Our clubs and societies reflect our ethos of excellence in a caring community and there is something to interest every pupil. In addition to the regular clubs and societies listed above, pupils have the chance to get involved in a wide range of competitions, initiatives, projects, field trips and school trips.

It has been proven that students who actively engage in meaningful extra-curricular activities are more likely to make better progress in school and achieve to their full potential. Therefore, pupils are welcome to join as many clubs as they like, with everyone encouraged to be a part of at least one.

Although there are lots of exciting activities on offer, we are always receptive to new ideas and some clubs have developed from pupils' own particular enthusiasm or interests.
---
Bloomfield Collegiate School
School Useful Links
---
---
NB: whilst every care has been taken to ensure accuracy of data please check with the school or county for up to date information.