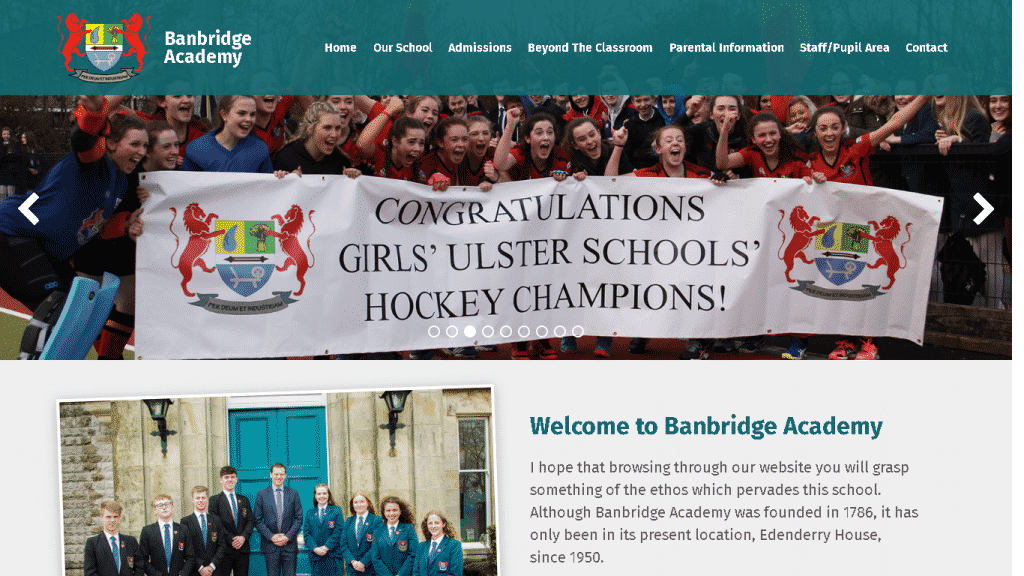 Banbridge Academy
Banbridge Academy Vision & Values
Banbridge Academy's mission statement is the pursuit of excellence in a caring and supportive environment.
Our central aim is for everyone to be happy at school, known personally and cared for individually. Our emphasis is on nurturing the whole person and to that end in addition to our academic pursuits a rich diversity of artistic, dramatic, musical and sporting activities are also on offer.
Banbridge Academy Contact Details
School: Banbridge Academy
Address:
Lurgan Road
Banbridge
Down
BT32 4AQ
Telephone:
(028) 4062 3220
Email:
info@banbridgeacademy.banbridge.ni.sch.uk
Banbridge Academy Entrance Criteria
School: Banbridge Academy
Banbridge Academy operates the AQE Common Entrance Assessment for primary school pupils. The AQE "Guide to Parents" provides information about the AQE entry test, the CEA, and information about schools which accept it as part of their admissions criteria. This document as well as additional information can be found on the AQE website: www.aqe.org.uk
For more information about coming to Banbridge Academy into Year 8 in September, please see the P6 Parent Information presentation below. http://www.banbridgeacademy.org.uk/wp-content/uploads/sites/4/2018/05/P6-Parents-Information-Evening-Transfer-2019-and-AQE.pdf
For guidance on applying for a place in Banbridge Academy in years 8-12 and sixth form, please view the relevant link below:
Banbridge Academy can be found at the click here
---
Banbridge Academy Priority Catchment Area
---
Banbridge Academy School Location
---
Banbridge Academy School Extracurricular
The school places a very strong emphasis on the values of extra-curricular activities as a contribution to the education of it's pupils, particularly in developing social skills, self esteem, initiative and the ability to work as part of a team.

Games provided include: athletics, badminton, cricket, cross-country running, football, golf, hockey, netball, rugby, soccer, squash and tennis. Sports Day is held towards the end of May each year. Pupils selected for teams are expected to make participation a priority. Parents are very welcome to attend matches. Exemption from Games and Physical Education will be granted only on medical grounds or for another sufficient reason, as a result of prior arrangement with the Principal.

Clubs and Socities operate largely at lunch-time and after school and pupils (under staff guidance) are encouraged to take a leading part in their management. These include: Charity Committee, Chess Club, Choirs (Junior and Senior) Debating Socities(Junior and Senior)Drama Society, Duke of Edinburgh's Award Scheme, Orchestra, Scripture Union (Junior and Senior)Young Enterprise, Junior Cooks' Club BAYS;Ski Club;Eco School, Modern Languages, Cine Club, TASk;Leo Club; Warhammer Club; Italian Club.
---
Banbridge Academy School Useful Links
---
---
NB: whilst every care has been taken to ensure accuracy of data please check with the school or county for up to date information.