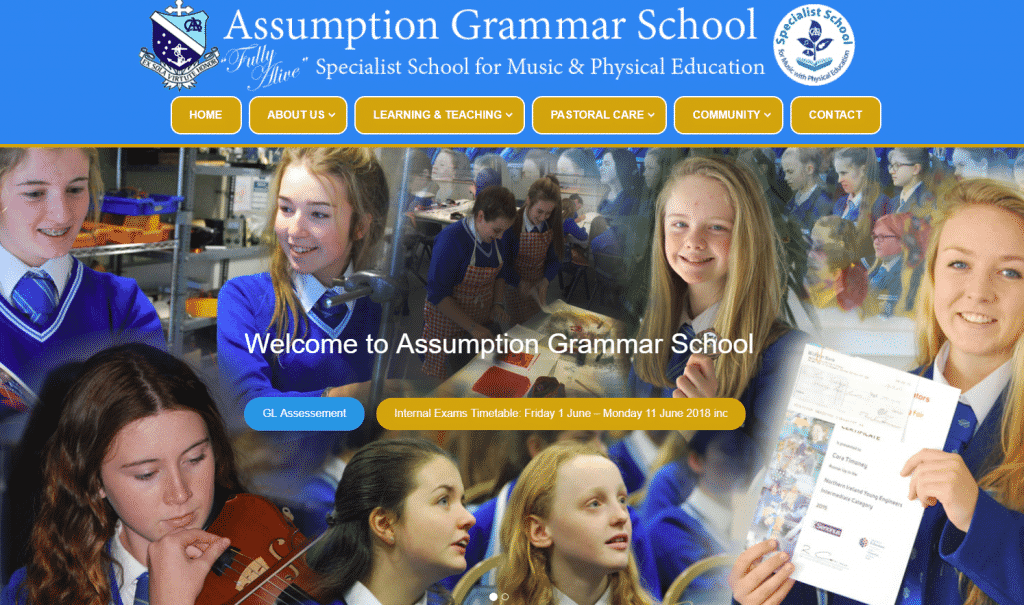 Assumption Grammar School
Assumption Grammar School Vision & Values
Assumption Grammar School is one of the finest Catholic Schools for Girls in Ireland situated on a beautiful, elevated site on the edge of the historic Co.Down market town of Ballynahinch. The easy accessible, state-of-the-art building serves pupils with wide-ranging talents and abilities from all over South Down and Belfast.
Assumption Grammar School Contact Details
School: Assumption Grammar School
Address:
24 Belfast Road
Ballynahinch
Co Down
BT24 8EA
Telephone:
(028) 9756 2250
Email:
admin@assumption.ballynahinch.ni.sch.uk
Assumption Grammar School Entrance Criteria
School: Assumption Grammar School
Assumption Grammar School is a Catholic grammar school for girls. The Board of Governors will consider for admission pupils who have the ability to cope with the academic requirements of the curriculum offered by the school and whose parents are in support of the philosophy, ethos and aims of the school. The Board of Governors draws up the school's policy and criteria for admissions and delegates to a sub-committee responsibility for applying the criteria in the selection of pupils. Assumption Grammar Schoolcan be found at the click here
Read this before applying for a school place.
---
Assumption Grammar School Priority Catchment Area
Just 25 minutes from the City Centre, a place at Assumption provides parents and pupils with a hassle-free journey to and from school, with minimal rush hour traffic and a half-hourly bus service accommodating pupils from Belfast, Newtownbreda, FourWinds, Carryduff and the neighbouring countryside. We serve pupils from the Ards Penninsula, Lisburn, Dromara, Downpatrick, Castlewellan and Newcastle.
---
Assumption Grammar School Location
---
Assumption Grammar School Extracurricular
---
Assumption Grammar School Useful Links
---
---
NB: whilst every care has been taken to ensure accuracy of data please check with the school or county for up to date information.