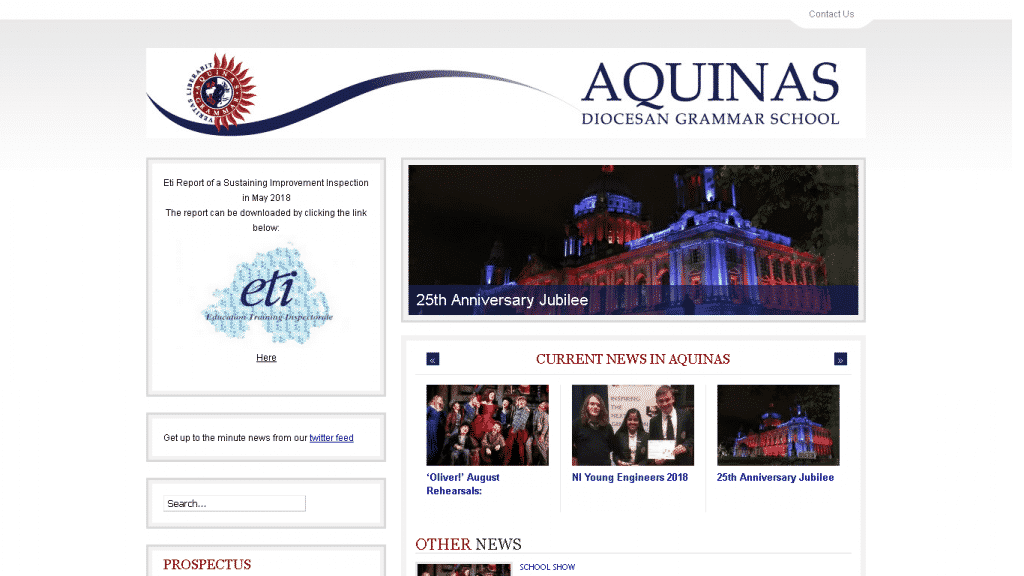 Aquinas Diocesan Grammar School
Aquinas Diocesan Grammar School
Vision & Values
We are an inclusive school whose aim is to provide opportunities for all our pupils, enabling them to realise their true potential, academically, socially, spiritually and personally. We seek to foster a spirit of respect and understanding in each child in an environment which in turn is secure, supportive and caring, in which our pupils feel valued and esteemed. We are a learning school where the learning experience is effective, enjoyable and empowering and where our students are encouraged to aim high and to work hard. Their time here will, we believe, enable them to go out into the world as confident, mature young adults, well prepared for all the challenges of the 21st century. We are committed to working in partnership with our parents, constantly aware of the value of their support and the importance of their role. Above all we are a school which recognises the uniqueness of each child, the wonder of each child and their potential for greatness.
To promote the spiritual welfare of every member of the school community.
To foster to the highest possible degree the academic development of each student.
To establish a creative and secure educational partnership between the school, our parents and the wider community.
To provide a Pastoral Care System to meet the needs of all students throughout their school career.
To seek to promote a sense of continuity, coherence and achievement in each student's educational experience.
To develop attitudes and opportunities through which our students may become responsible members of society.
To prepare our students for a rapidly changing adult world of work, leisure and responsibility.
To foster within the school community respect for the personal and intellectual integrity of each and every individual.
Aquinas Diocesan Grammar School
Contact Details
School: Aquinas Diocesan Grammar School
Address:
518 Ravenhill Road
Belfast
Antrim County
BT6 0BY
Telephone:
02890 64 39 39
Email:
info@aquinas.belfast.ni.sch.uk
Aquinas Diocesan Grammar School
Entrance Criteria
School: Aquinas Diocesan Grammar School
Preference will be given to applicants resident in Northern Ireland at the time of their proposed admission before any applicant who is not resident in Northern Ireland. Aquinas Diocesan Grammar School can be found at the Click Here
Read this before applying for a school place.
---
Aquinas Diocesan Grammar School
Priority Catchment Area
Aquinas Diocesan Grammar School is situated on a spacious site on the Ravenhill Road in South-east Belfast. The school draws its pupils from a wide catchment area.
---
Aquinas Diocesan Grammar School
School Location
---
Aquinas Diocesan Grammar School
School Extracurricular
---
Aquinas Diocesan Grammar School
School Useful Links
---
---
NB: whilst every care has been taken to ensure accuracy of data please check with the school or county for up to date information.